Imagine. Create. Explore.
What if the library was more than just a place for books, music and movies? What if the library was a place to learn survival skills, brew beer and fix your bike? Find new opportunities to make, create and explore.
---

This fall at ImagineIF Libraries we're pulling out all the stops. Whether you are celebrating your ability to keep a secret, traveling back to the Jazz Age with a selfie station, or looking to the future with emerging technologies, you are sure to find a sight to behold.
---
Shred Your Secret
Have a secret that you're dying to tell? Let it out without spilling the beans. Write a secret down on colored paper, shred it then add it to the mix. Throw that confetti into the air and celebrate the release!
Kalispell: September 6-13
Columbia Falls: September 17-21
Bigfork: September 24-28
---
Gatsby or Cowpoke: F. Scott Fitzgerald's Montana Connections
F. Scott Fitzgerald visited Montana in the summer of 1915. Later, Fitzgerald set one of his most famous short stories, "A Diamond as Big as the Ritz," in Montana. Stu Wilson, the president of Fitzgerald in Saint Paul, will explore the Montana settings, themes and inspirations of the "Diamond" story as well as look at other Fitzgerald and Minnesota connections to Montana.
ImagineIF Kalispell Oak Room: October 18, 5 p.m.
---
Trivia @ the Brewery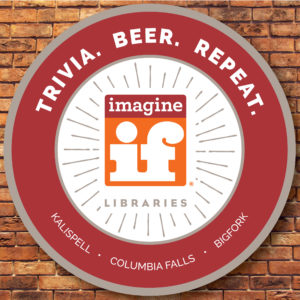 Missed trivia last winter? Put your brain to the test!
Crown of the Continent Discovery Center: Sundays, 6-7 p.m., June 9 – Aug 25